Things to Do
Agriculture
Cascade Farmland Association
Cascades Farmlands - Promoting and supporting small farms and agricultural tourism for North Central Washington since 2001.

Address: P.O. Box 462 Peshastin, WA 98847-0462 Phone: 509-433-1054 Hours: Be Email: Website: VisitWashingtonFarms.com
Attractions
Slidewaters Family Water Park
Located on the "Chelan Butte" overlooking beautiful Lake Chelan, beautiful, clean park with sparkling clear water, Slidewaters features 10 slides including "Thunder Rapids", "Tube Blaster" and "Purpl

Website: SlideWaters.com
Manson Waterfront Park
Picnic area, swimming, moorage with beautiful views.

Boat & Yacht Cruises
Peterson Marine Charters
Watch for harbor seals as they frequently frolick near by, and listen to the soundtrack of the city sweep over the water.

Address: 18620 Northeast 55th Way Redmond, WA 98052 Phone: (425) 652-2651 Email: Website: PetersonMarineCharters.com
Boating
Lake Chelan Boat Company
For those without a boat who want to see the upper reaches of Lake Chelan, the Lake Chelan Boat Company offers year-round ferry service to the head of the lake on three different vessels.

Website: LadyofTheLake.com
Innamorata
Crafted of teak and mahogany, this 1956, 56-foot Chris Craft was originally owned by the late Dean Martin. As a tribute, she has been christened the "Innamorata", Italian for sweetheart, after of of

Shoreline Watercraft
Jet Ski & Boat Rentals. Discounts Available. 4 locations on the Lake. Chelan, Manson and at Resorts.

Address: Don Morse Park Chelan & Manson Village. Phone: 509-682-1515 Email: Website: ShorelineOfChelan.com
Casinos
Coulee Dam Casino
Coulee Dam Casino offers 120 of the latest high-tech slot machines for your gaming entertainment - games like Cleopatra, Texas Tea, Leopard Spots - and many more!

Address: 515 Birch Street Coulee Dam, WA 99116 Phone: (509) 633-0766 Hours: Sunday - Wednesday 8AM - 4AM Thursday 8AM - 12AM Friday - Saturday 24/7 Email: Website: www.colvillecasinos.com
Charities
Outdoors for All
Provides year round programs for disable adults and children such as snowboarding, skiing, rock-climbing, river rafting, cycling and more.

Address: 6344 NE 47th St, Suite 102 Seattle, WA 98115 Phone: 206-838-6030 Fax: 206-838-6035 Email: Website: OutdoorsForAll.org
Fishing
Fishin' Magician Dave Graybill
Everything you need to know about fishing in the Northwest United States. Dave Graybill has 40 years of experience. You can read his column on numerous newspapers and on radio stations.

Address: P.O. Box 78 Wilson Creek, WA 98860 Email: Website: FishingMagician.com
Golfing
Lake Chelan Golf Course
In the heat of town and on a hill that provides huge views of the lake and valley. In fact the setting is so grand you might find yourself looking when you should be golfing.

Website: CityOfChelan.com/LCGolf
Museums
Music
DJ Chelan - Heidi Neal
Address: Chelan WA 98816 Phone: 509-630-3115 Email: Website: DjChelan.com
Parks
Featured
Ohme Gardens
Soothing 9-acre alpine garden high on a rocky bluff above the Columbia River. Stone-pathways, spectacular views, pools, waterfalls, rustic shelters. Great for weddings and other events.

Address: 3327 Ohme Road, Wenatchee, WA 98801 Phone: 509-662-5785 Hours: April 15 through October 15. 9:00 AM to 6:00 PM. Email: Website: OhmeGardens.com
Restaurants
River Rafting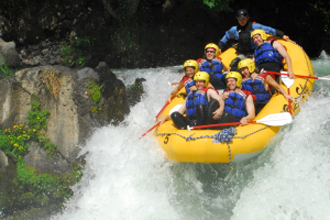 Featured
Blue Sky Outfitters
Raft the best rivers around with the most experienced guides. Clean and state-of-the-art gear and great food too. Safety is always first.

Address: 3400 Harbor Ave SW #105, Seattle, WA 98126
Enchanted Water Tours
A local Leavenworth company which specializes in intimate settings and custom itineraries from small groups to corporate outings of 100 people or more.

Phone: 509-548-5031 Email: Website: EnchantedWaterTours.com
Shooting
North Cascades Sportsman's Club
The public range, located at 10 miles north of Chelan, has a 75 yard out-door pistol range, a 400 yard outdoor rifle range and area for muzzleloaders, trap, skeet and archery. Range is open to the p

Shopping
Lake Chelan Sports
Sporting Goods: skiis, snow shoes, water skiis, sunglasses, volleyballs, athletic shoes & sandals etc.

Phone: 509-682-2629 Email: